CoolSculpting Services in Ithaca, New York

Say goodbye to stubborn fat. It's called stubborn fat for a reason: no matter how much you exercise and eat healthy, it's virtually impossible to lose those annoying muffin tops and love handles as you get older. You're left with two options: live with them or think surgery.
That's exactly why we offer the revolutionary non-invasive procedure called CoolSculpting®. Only CoolSculpting® targets fat cells alone, decreasing them in an easy, nonintrusive fashion that exercise and diet can't achieve as quickly or as effectively.*
How Did CoolSculpting Start?
Harvard University scientists observed that some children got dimples due to eating popsicles. The idea that cold can selectively affect and eliminate fat cells without damaging the skin or surrounding tissue was the insight behind Cryolipolysis®, the proven science on which the CoolSculpting procedure is based.
The CoolSculpting procedure is the only FDA-cleared, non-surgical fat reduction treatment that uses controlled cooling to eliminate stubborn fat that resists all efforts through diet and exercise. The results are proven, noticeable, and lasting, so you'll look great from every angle.
How Does CoolSculpting Work?
Procedures that use lasers, sonic waves, and even surgery to remove fat can actually destroy other tissue in the process by burning, shattering, or extracting non-fat cells. This requires downtime for your body to heal. Totally uncool. Fortunately, CoolSculpting® doesn't burn, shatter, or extract any cells. Developed by Harvard scientists, our unique, FDA-cleared, patented procedure uses a targeted cooling process that kills the fat cells underneath the skin, freezing them to the point of reduction.
Only fat cells are frozen. Your healthy skin cells remain healthy. No knives. No needles. No scars. Once crystallized by the targeted application of cold, the fat cells die and are naturally reduced from your body. In only a few months, say goodbye to the fat and hello to a new you.
How Does CoolSculpting Work?
CoolSculpting Before & After Photos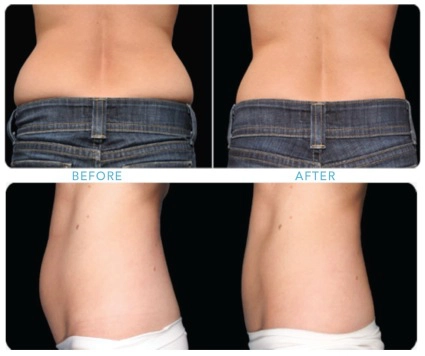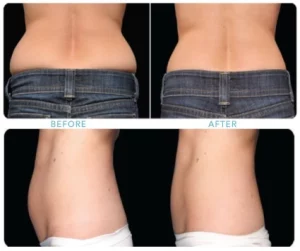 Freeze Stubborn Fat Away, Say No To Surgery
The CoolSculpting fat freezing procedure is FDA-cleared and contours the body by safely and effectively freezing away unwanted fat for good without surgery or downtime.
Sit Back, Relax and Say Goodbye to Stubborn Fat
After you and your physician select the area(s) to be treated, the device is positioned on your body and controlled cooling is applied. During your procedure, feel free to read, check email, or even take a nap.
You can reduce fat on multiple areas of your body with the CoolSculpting procedure, and additional sessions may further enhance your results. Your provider will help you create an individualized treatment plan tailored just for you.
What is the Recovery from CoolSculpting?
Unlike a lot of other procedures, CoolSculpting® takes very little time and is fairly simple to fit into your daily life. After your CoolSculpting® treatment, you can typically get right back to your busy day. Each treatment lasts 35 minutes—less time than you might spend at the gym for a single workout. You can easily fit your appointment into a lunch break.